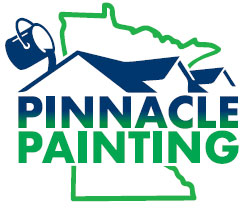 Pinnacle Painting, LLC is a privately owned full-service interior and exterior painting company located in the Twin Cities Metro area. We take great pride in taking your home improvement vision and making it your reality. If you are looking for a company committed to exceeding customer expectations, you have come to the right place!
We are on-site, providing the hands-on hard work and oversight necessary to keep the project moving smoothly, on time, and on budget. We anticipate potential problems such as weather or delays in product deliveries and reprioritize to keep the project moving forward at all times.
A little about Owner Chad.  Chad has been painting for 30 years. He knows the importance of good communication and quality work. During this time he has learned many different painting techniques to better the final product and insure quality and durable finishes.
Chad enjoys spending time with his family in his spare time and is fortunate enough to have two of them follow in his footsteps and work along side of him daily.
A little about Owner Chris. Chris has been working in the Residential Construction industry for 22 years. He started as a carpenter for 12 years and started his own Residential Construction Company in 2007. During that time he and Chad met and formed a great friendship. They quickly realized they shared the same vision and care for customers and there satisfaction.
Chris likes to spend time in northern Minnesota with friends and family in his spare time.
Your end product must meet your needs not only for today but long into the future.
Throughout the project, we continuously collaborate with the client and believe this is a key to a successful project.
From start to finish, we will make sure that this is as pain-free as possible. In the end, Pinnacle Painting believes that our attention to detail will show, and you will become part of the family.
Call with questions.